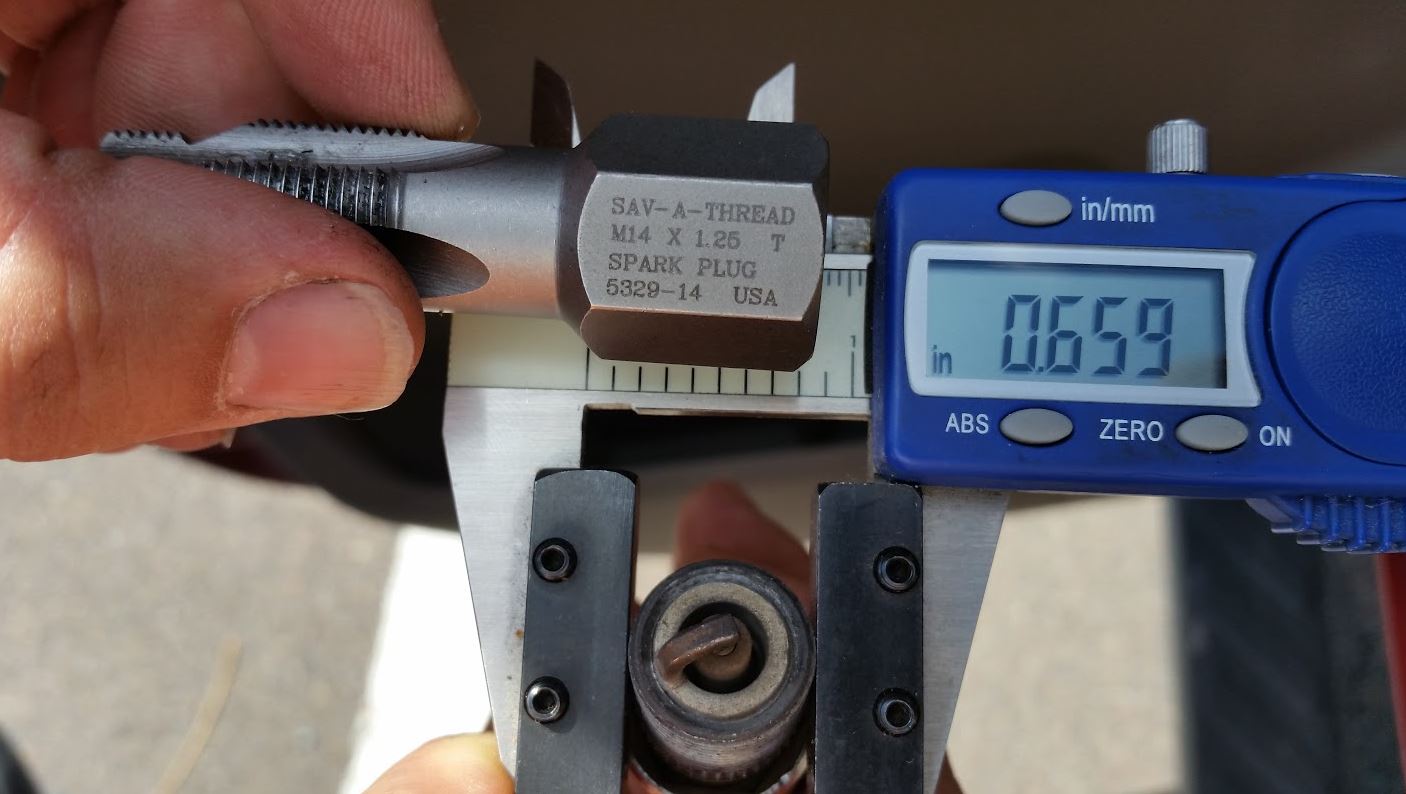 DennisB WiseAutoTools.com © Summary: You guessed it we are talking about Ford spark plug blowouts once again. A recent customer with a 5.4 Liter in a 2004 Ford Expedition has experienced a SAV-A-THREAD spark plug thread repair fail which he purchased at local Napa Auto Parts store. He called us and wanted a suggestion for the best spark plug thread repair kit for his situation. We have a video covering different size outside diameter repairs. I show Big, Bigger and the Biggest spark plug thread repair kits and what the advantages are of each. All three could work for this particular customer's Expedition. we sell three possible choices for over-size thread repairs for his application which are a permanent repair rather than a patch job like the Sav-a-thread typically ends up being.
The image can be clicked on for a larger view. It shows the customer with the Expedition holding the spark plug that blew out with the SAV-A-Thread insert still attached. Part of the instructions for the SAV-A-Thread parts store brand says to hit the insert using an expanding tool to wedge the top of the insert outwards. Seems insane to think that whacking your insert with a hammer is a good idea, or that spreading the top instead of the bottom of the insert is more affective. Time Sert spreads/expands the bottom of the insert by use of an installation driver. A much better idea. The three spark plug thread repair kits I talk about are te Time Sert 5553, the Calvan 38900 and the Time Sert 5600.
TIME-SERT 5553
Time Sert says not to use the 5553 when the spark plug hole larger than .660 inches or 16.8mm. As you can see on the measurement of the outer threads of the SAV-A-THREAD insert it's already right there. Therefore, I wouldn't recommend the Time Sert 5553 when a SAV-A-THREAD has already failed making the spark plug hole larger. The Time-Sert 5553 is an oversize kit, which the manufacturer calls Big Sert, but in this case it's not large enough. There's just not enough material to ensure it will hold. If a smaller type insert had been used the TIME-SERT 5553 would be OK. In fact the 5553 is a very good kit that can be used in many more applications than the Calvan 38900 kit.
Calvan 38900
The Calvan 38900 kit spark plug thread repair kit can be used on a limited application. It can be used primarily on Fords with M14x1.25mm spark plugs between 1997 to 2004 4.6, 5.4 and 6.8 SOHC engines (NOT for 3V engines or DOHC). If you've got a 2004 with a 3 valve Triton that takes M16x1.5mm spark plug or a Lincoln Navigator with a DOHC (Double Over Head Cam) engine, the 38900 is NOT the right kit. The outside measurement of the 38900 insert is .73″ and the kit used an 11/16″ reamer. So the Calvan 38900 kit can be used on the Expedition that this particular customer has. We also have this kit available with one insert for DIYers. Included is a Tips sheet with helpful tips, compiled over the years (since 2005) that we've been selling this kit
TIME-SERT 5600
The Time Sert 5600 triple oversize thread repair kit measures .77″ on the outside edge of the largest insert in the kit. The 5600 kit uses two inserts to obtain the largest outside diameter. This kit will also work on the Expedition. It will also work on all applications that uses an M14x1.5mm sprk plug that has had another insert like from Napa or a different parts store which has failed and blew out again. We also have washer seat inserts available for spark plugs that are not tapered and have gaskets (or washers) instead.
Still have questions on how to repair your vehicle's spark plug threads? Give Dennis a call at 800-734-8665.
Recent Posts
DennisB WiseAutoTools.com © Summary: How to determine the right oversize thread repair when a previo …

WiseAutoTools.com © Summary: The image above is for the ES72220 replacement head …

WiseAutoTools.com © Summary: The short answer is that "fine" threads are stronger than coarse t …