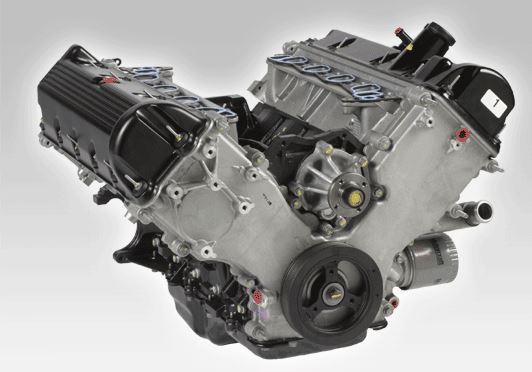 DennisB WiseAutoTools.com © Summary: The Calvan 38900 M14x1.25 taper seat spark plug thread repair kit, which is also sold under different labels, works on many Ford SOHC 4.6, 5.4 and 6.8 Liter engines from 1992 to 2016 excluding 3 valve and DOHC engines. The Calvan 38900 is used with the motor/heads in the vehicle. Calvan as well as Time Sert is an over-the fender type repair. These are the most common motors that have the dreaded Ford spark plug blowout problem. Does the 38900 kit work for your engine? There's more application details below, or feel free to give us a call to speak to a real human at 800-734-8665. We offer the Calvan 38900 thread repair kit and Time Sert which offers more coverage. The Calvan 38900 Ford spark plug thread repair kit uses an oversize M14x1.25 taper seat steel alloy spark plug insert (pn 389-100) with a large lip that'll work on first time repairs and second time repairs when a Perma-Coil, Save A Thread, Lisle, Heli-Coil or other competitive brand has failed making the hole bigger. The outside diameter, measuring on the external threads is .73″. The measurement on the outer edge of the lip is .85″.
Our kits work in many cases even when the following brands have failed; Save-A-Thread by Helicoil, Perma-Coil, Lisle 65000 & 65900, Dorman, Recoil, Performance Tool, Gearwrench, Napa/Balkamp and others. This is possible because the Calvan 38900 inserts are oversize, which means they are thicker. The inside still accepts the original M14x1.25 spark plug. The 38900 kit excludes 3V engines – see Calvan 39300 or Time Sert 3221 if you have a Ford 3V engine with M16x1.5 threads, or the Time Sert 4212H if it's an M12x1.25. If working on a Ford DOHC engine with M14x1.25, use the Time Sert 5553 or 5600 (Calvan does not work for DOHC 32V engines).
The Calvan 38900 works ideally for first time repairs or even second time repairs on engines that have had a spark plug blow out. A second time blowout makes the hole larger but the 38900 can be used on holes up to .678″ the approximate OD measurement on the reamer in the kit is .69″. The kit includes an 11/16″ reamer which is used before the tap, so checking the hole with an 11/16″ drill bit is a common way of determining if the hole is too big for the kit or not. We have one more kit that's bigger. The bigger one is the Time Sert 5600 which works on holes almost 3/4″. So the 5600, although more costly, is another repair option without replacing the head if the hole is too big for the Calvan 38900. Using the 5600 kit is still a lot less expensive than replacing the cylinder head. And you end up with stronger spark plug threads. We've had customers replace the cylinder heads before that later discovered they had inferior Helicoil repairs in the rebuilt heads resulting in the same blown out spark plug problem! In many cases though, the less expensive 38900 is large enough when a larger hole is made by a failed repair done with one of the temporary repair kits mentioned above from a parts store. See the demonstration video below for the Calvan 38900 being used on a Romeo RF-1L2E head.
The 38900 kit comes with a cylinder leak valve pn 389-4000 that helps determine the engine's valves are closed in the cylinder being worked on. This is very important for two reasons. 1. it prevents the valves from being bent with the tooling when drilling and tapping. 2. It isolates the cylinder so all debris from reaming and tapping can be blown out with a blow-gun. It's important to make sure the valves are closed, which also prevents debris from being blown past the valves further into the engine. We also have the 389-4000 available for separate purchase if needed when using a different that does not include it. The line-up adapter guides the reamer straight in the hole even in tight areas back by the firewall. This gives even beginners the confidence to drill into their engine knowing that the hole is perfectly centered and straight every time. Did you know that the Calvan 38900 is sold under different names? That's right. The Calvan 38900 is also sold as Snap On/Blue Point, Mac, Matco, ATD, CTA, Mountain and others. But no one can beat our spark plug thread repair kit prices or provide as much useful information. When purchasing from WiseAutoTools.com or DenLorsTools.com just ask for tips in comments during checkout, or as the representative on the phone and we'll provide you with our free exclusive tips that we've compiled over the years of selling Calvan 38900 kits. We also offer tips for Time Sert 5553 and 5600's. Remember we don't sell on Amazon or eBay so tips are only available when purchasing from one of our websites. We are available to our customers by phone for questions, which is also an exclusive benefit to our customers.
Application – Will the Calvan 38900 work on my engine?
This section of the article is on application. We cover which vehicles the Calvan 38900 will work on. If your vehicle is a 2001 or above it may have the "Romeo Ford Problem Head" with extra step material above the spark plug hole. Using the 38900 kit on a 2001 & up Romeo style head may allow the spark plug to be positioned a little higher than normal. The manufacturer of Calvan, which is Horizon Tools does not provide any information on this one way or another. Their product description just says it fits from 96-2003. The Calvan kit obviously fits more than 96-03 because in tediously going through all of the possible applications we've determined that the 38900 works on many more vehicles than first thought. That's because even-though 3V engines started (which use M16x1.5 spark plugs) being used in 2004; Ford still used 2V heads for many models. There could be a Romeo or Windsor style head used. The Romeo style head has an extra step material above the sparkplug that could allow the spark plug to site a little higher. About 3/8″ higher which may or may not cause an issue. I'm sure this has been done, but we have never had any issues reported. To find out which head you have, look for casting #'s RF-1L2E or RF-2C5E for Cobras, which signify Romeo heads. Again, on 2001 and up Romeo heads the spark plug may sit a little higher. We've never heard of a problem using a Calvan 38900 kit on a Romeo head causing a problem, but it's best to be aware. If you'd like to check to see if your head is a Romeo or not, we have more information on identifying your head; see the following article (primary information provided by Time Sert). Ford Problem Heads. Questions on application? Fill out form below or call 800-734-8665 x251.
Ford 4.6 & 5.4's Note *2001 and up may have Romeo Heads See Ford Problem Heads
Calvan 38900 M14x1.25 with thread locker for 4.6, 5.4 and 6.8 SOHC engines.
Calvan 39300 for M16x1.5 3V engines. Not all 4.6, 5.4 and 6.8's are M16x1.25.
Time Sert 5553-389 M14x1.25 includes the cylinder leak tester. Works on many applications.
Time Sert 5600-389 is for the largest outside diameter, "last chance" fix.

Time Sert 4212H is for M12x1.25 Ford 3V engines, some Ford Fusions, Mustangs (call for application help)
FAQ's Frequently Asked Questions
10/16/21 Question - I see that the Calvan 38900 kit has black inserts now. Why did Calvan switch to black inserts instead of stainless steel?
Answer - The manufacturer has switched to a black oxide rust preventive treatment. Previously, they looked like they were stainless steel but actually were not. Sometimes surface rust would start on the inserts either on the shelf or in the mechanics tool box prior to installation. The manufacturer decided to treat all inserts with a black oxide treatment to prevent any issues with corrosion. At the time we are answering this question, inserts that are not black are most likely cheap counterfeits and NOT authentic.
Question – I have a 2000 Ford F150 that has had a Helicoil fail. Will the Calvan 38900 kit work to repair this hole since it is now larger?
Answer – The short answer is yes. We sell Calvan 38900's all the time for repairing holes that were previously Heli-Coiled and have done so since 2005 with no reported failures. The reamer (which is like a drill bit) that comes in the kit is an 11/16″ size. If you have any doubt or want to double check to make sure the hole is not too large already, place an 11/16″ drill bit in the hole. If the hole is smaller than the bit, the kit will work fine. This is because you will be drilling the hole out with the 11/16″ bit before tapping it anyway. After drilling and tapping the hole; it will accept the new spark plug insert. Our inserts are not a temporary repair. They will last the lifetime of the engine. As you may have already read the inserts are made of a steel alloy that shares a similar composition or make-up as the aluminum that the cylinder head is made of. This results in grounding or ignition problems; but since it's steel alloy it has a much higher tensile strength compared to aluminum.
Question – I don't want any metal shavings in the engine. Do I have to remove the cylinder head?
Answer – No, the repair is commonly done over the fender with the cylinder head still mounted on the block. No need to remove the head. The Calvan 38900 kit also includes a cylinder leak tester (389-4000) that helps to determine the engine valves are closed before starting to work. Plug the rubber stopper from the cylinder leak tester into the spark plug well with a low amount of air from an air compressor going through the hose. Just hook the air up and turn the brass air valve on til it hisses. Turn the engine over manually with a ratchet by turning the front crank bolt. The rubber cone will pop out of the spark plug hole when the valves are closed. The video shows this as well. This is an easy way to determine the valves are closed (without the need of removing the valve cover and actually seeing the cam lobe positioning). By making sure the engine's valves are closed on the cylinder being worked on, it prevents damage to the valves because they're not sticking out in the way when the tooling is used. If the valves are open the valves can bent by the reamer or tap. Also when the valves are closed, this isolates the cylinder, preventing metal chips from being blown past the valves when cleaning the debris out from reaming and tapping.
38900 uses the original M14x1.25 spark plug.

We have kits for other applications.

We send Tips upon request when purchased from us!

Replacement inserts can be purchased separately – 389-100.

If you need an M16x1.5 Ford 3V kit see the 39300 kit.
Make

Model

Engine 4.6

Year *Exercise Caution

Ford

Crown Victoria

4.6 SOHC 2V

Mercury

Grand Marquis

4.6 SOHC 2V

Ford

Mustang

4.6 SOHC 2V

1996 – 2004 Excludes Cobra

Ford

Thunderbird

4.6 SOHC 2V

Ford

E150

4.6 SOHC 2V

Ford

E250

4.6 SOHC 2V

Ford

Expedition

4.6 SOHC 2V

Ford

Explorer

4.6 SOHC 2V

Ford

F150

4.6 SOHC 2V

Ford

F150

4.6 VIN W Only

2009 *38900 for 2V's only

Ford

F150

4.6 3-Valve

2009 *See 39300 Kit

Ford

F250

4.6 SOHC 2V

Lincoln

Town Car

4.6 SOHC 2V

Mercury

Cougar XR7

4.6 SOHC 2V

Mercury

Mountaineer

4.6 SOHC 2V

Make

Model

Engine 5.4

Year *Exercise Caution

Ford

E150/E-Series

5.4 SOHC 2V

Ford

F150

5.4 SOHC 2V

Ford

F150

5.4 SOHC 2V

2004 *38900 for 2V's only

Ford

F150

5.4 SOHC 3V

2004 * Some have 3V See 39300

Ford

F250 & F350

5.4 SOHC 2V

Ford

Expedition

5.4 SOHC 2V

Ford

Excursion

5.4 SOHC 2V

Lincoln

Navigator

5.4 SOHC 2V

1998-1999 *38900 2V's only

Lincoln

Navigator

5.4 DOHC 4V

1998-1999 *Some have 4V See 5553

Make

Model

Engine 6.8

Year

Ford

Excursion

6.8 SOHC 2V

Ford

F250-550, F53

6.8 SOHC 2V

Ford

Motorhome

6.8 SOHC 2V

Ford

E350- E450

6.8 SOHC 2V
The application chart above is accurate to the best we can determine. We are not responsible for incorrect use of any of our kits. We suggest trying a spark plug in an insert before reaming into the engine. This helps ensure you have the right kit. We have had guys purchase the incorrect kit and install the wrong insert. On 3V engines the taper seat can be damaged inside the head. In some cases if using a 3V kit on a 2V engine it's just a matter of installing the correct insert since the outside diameter and thread size is the same. One clue that the wrong kit was being used is that the guide from the 3V kit would have to be modified to force it to work. If there's any doubt in the application please give us a call.
For even more information, see our main page with many more articles and videos on how to repair stripped threads.
We've been selling auto tools and thread repair kits since 2005. Call for assistance in finding the best spark plug thread repair kit for your situation at 800-524-9783 or 800-734-8665 x251 or provide your details by using our Contact Form.
Recent Posts
DennisB WiseAutoTools.com © Summary: How to determine the right oversize thread repair when a previo …

WiseAutoTools.com © Summary: The image above is for the ES72220 replacement head …

WiseAutoTools.com © Summary: The short answer is that "fine" threads are stronger than coarse t …