Wise Auto Tools: I worked many years as a Master Auto Technician. I bought Snap On Tools, Matco, Mac and Cornwell tools but I have to say Craftsman was my main choice for everyday affordable ratchets, wrenches and sockets. There were a few applications that I used a more expensive name brand. For instance I didn't like the Craftsman line wrenches because they tended to spread and round brake line fittings. I absolutely loved my Snap On line wrenches because they never rounded the fittings. Many guys would go for the tool truck brands for everything they bought, but I never could make myself pay the high prices when I knew a less expensive alternative would work well in most cases. I would always admire the huge Snap On or Mac Tool boxes but I always had Craftsman tool boxes. With my paid for tool collection, I was able to be just as productive and make just as much money if not more, than the guys that had a weekly tool payment due for what seemed like, would be the rest of their career. I remember back in the 1980's a tech that I worked with at Good Year, told me that he expected to have a weekly Snap On tool payment from now on. He works at a Chevrolet dealer now and I have no doubt he still has that payment. Seems crazy to me but I kind of get it. There's always a new tool needed, and unless you go crazy, the payment is always around a same amount, it's easy to rationalize. Also the wife never has to know exactly when the tool purchases occur or how much is spent or owed.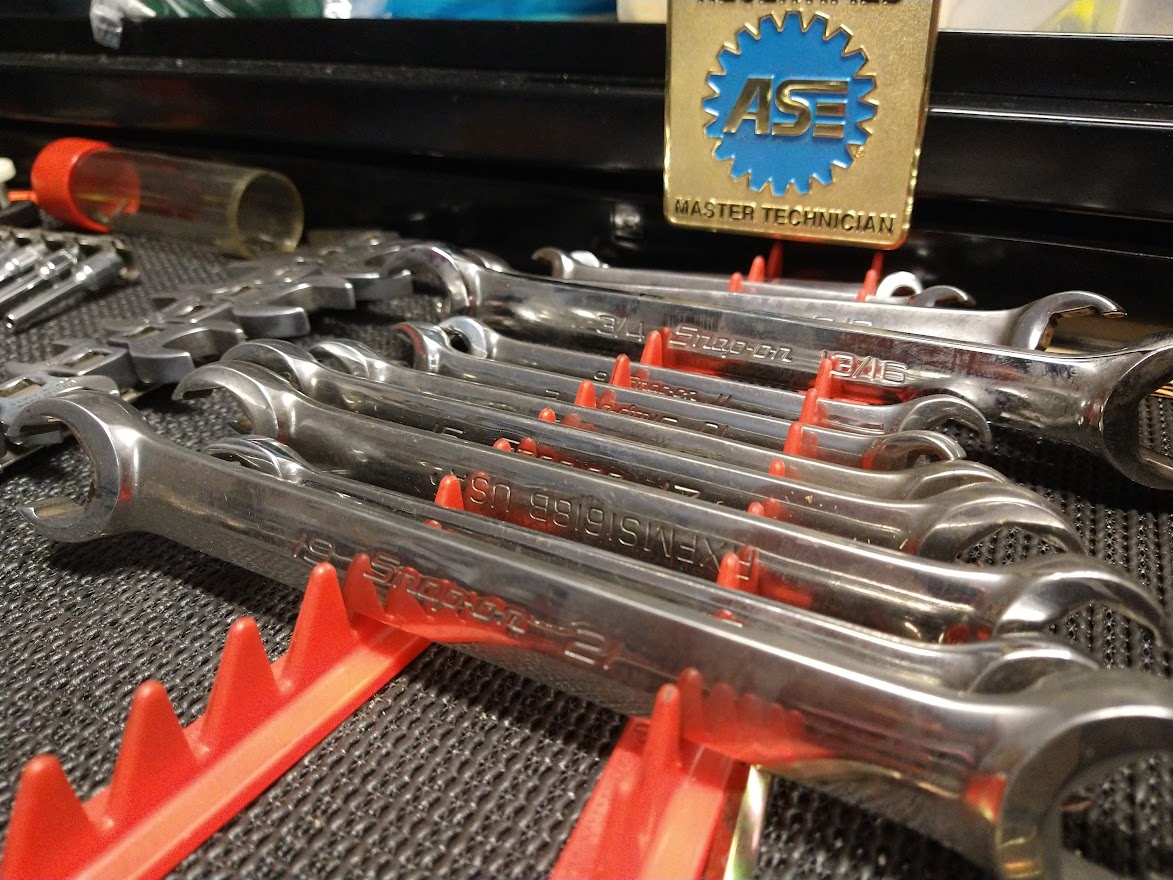 The image above is of my Snap On line wrench set.
Are Craftsman Tools Still Lifetime Warrantied?
To answer the question: Yes, Craftsman tools are still around, but they're not owned by Sears anymore. They're actually owned by Stanley Black & Decker. Not exactly the name brand that comes to mind to any professional auto technician. More of a DIY brand is how I always thought of Stanley or Black and Decker. It's a shame Sears had such a decline. Craftsman tools have been sold since 1927, originally through the Sears catalog and stores. But now you can find them in various stores like Sears (yeah there's a few still open), Kmart, Lowe's, and even Ace Hardware.
Craftsman tools have been known for their good quality, and some still have a lifetime warranty. When I worked on cars for a living, and had a problem with one of their tools, I'd take it back to Sears, and they would fix or replace it for free. However, there have been some changes to the warranty terms for certain lawn and garden products. Some people have had difficulties with warranty claims, but Stanley Black & Decker has said that they'll still honor the warranties that were in place before they took over.
Craftsman has also been involved in some legal disputes over the years, like patent issues and disagreements about advertising. Stanley has also been recognized for their low cost and decent quality, and a lot of people especially DIYers really like their tools. Craftsman, as mentioned before owned by Stanley, was voted the favorite brand of hand tools by Popular Mechanics readers back in 2009. Well that was quite a few years ago wasn't it? This is what we're dealing with today.
Craftsman offers a full lifetime warranty however there are exemptions for certain tools.

The warranty covers various tools such as hammers, screwdrivers, pliers, wrenches, sockets.

The same warranty applies to both new and older models of Craftsman tools. However, a lower grade tool may be given as a replacement.

No proof of purchase is required, and customers can return damaged products to a stocking retail partner. The problem here can be that Lowes uses different part numbers than Sears did so there will never really be any Lowes store that stocks an identical item that was purchased elsewhere.

Some people have reported positive experiences with warranty replacements at Lowes, while others have faced challenges. It all depends on the store you go to how flexible they may be.

There are mixed opinions about the quality and durability of Craftsman tools in recent years. This along with potential issues for warranty replacement are a sign of trouble ahead for Craftsman.

If a trip to Lowes doesn't handle the problem of warranty replacement, it's recommended to contact Craftsman directly for warranty claims 888-331-4569 https://support.craftsman.com/hc/en-us.

Wise Auto Tools has been providing auto repair blogs, tool information and has been selling automotive tools since 2005. Keep us book marked for interesting automotive repair articles and for your future tool needs, whether it's just for a socket set or a specialty thread repair kit, we've got you covered.
Recent Posts
We had a recent customer that asked this question.Question - I need a big sert for a 2000 Chevy Silv …

Modern car engines are made with a combination of materials, including aluminum and plastic, for var …

Floor jacks are a great shop tool or lifting vehicles or lifting the engine slightly so a motor m …